Over 80 recruiters and industry professionals attended our 2022 TalentEgg Awards and Conference to celebrate the best recruitment practices among students and recent grads. During the virtual event, we conducted several surveys to uncover exclusive insights into the future of recruitment and the workplace.
EMPLOYEES ARE HAPPY WITH HYBRID AND REMOTE WORKPLACES
We asked recruiters and industry professionals questions: "What kind of workplace do you have?" and "What is the best part of your new workplace model?" 5% responded "In Office", 36% responded "Remote", while 59% responded "Hybrid". Regarding the best part of their new workplace model, most respondents are happy about the comfort of working from home while still being able to connect with colleagues. In the post-pandemic aftermath, hybrid workplaces are the newest trend that will become the new normal.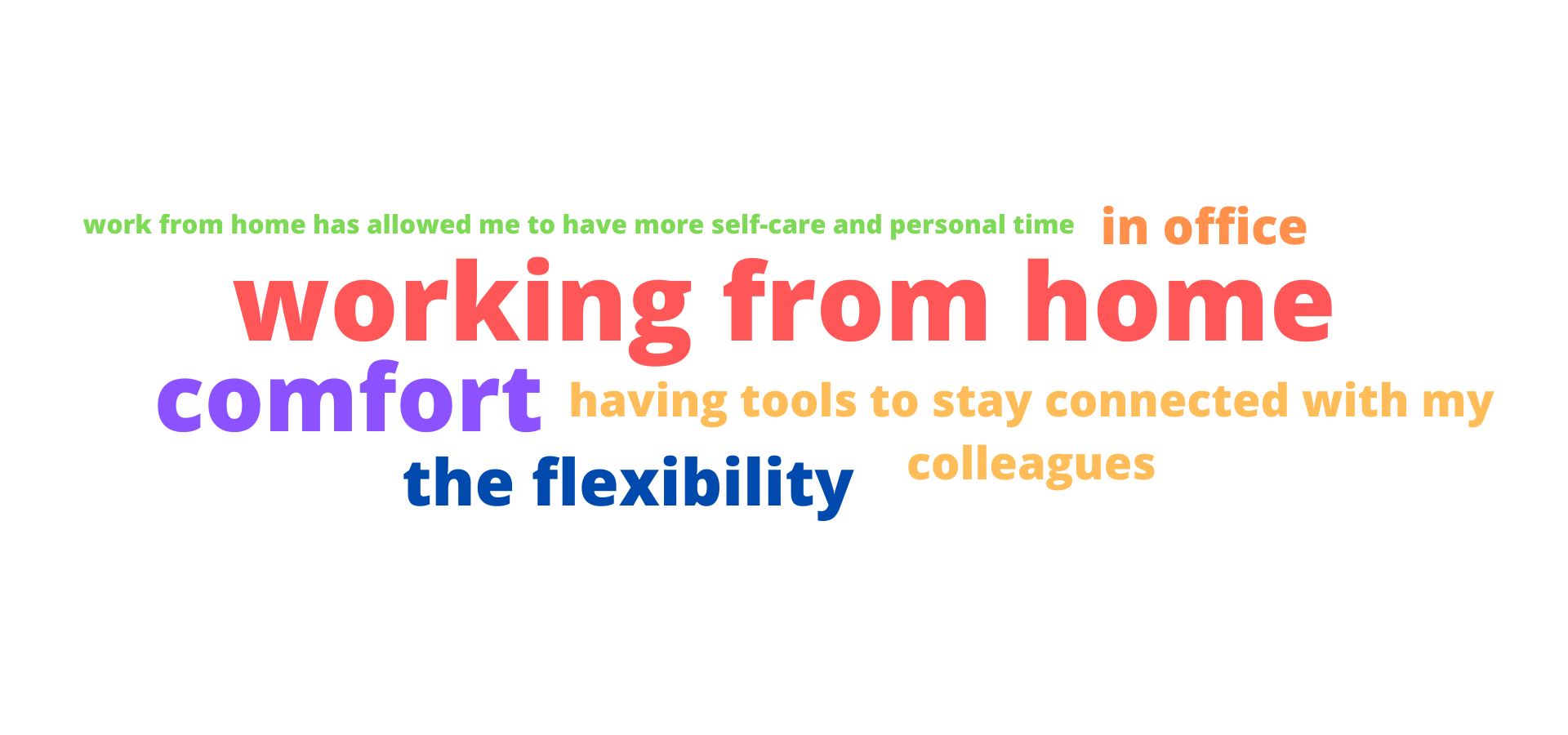 SOFT SKILLS ARE THE NEW CRITICAL SKILLS
In our Guide to Recruitment 2022, we empathize the importance of soft skills for the career success of students and new graduates. We asked our awards and conference attendees to tell us if they think "soft skills are critical for young talents in the workplace?" All respondents said "Yes." When we asked them if they believe their company should invest in Soft Skills Training, all respondents said "Yes" too.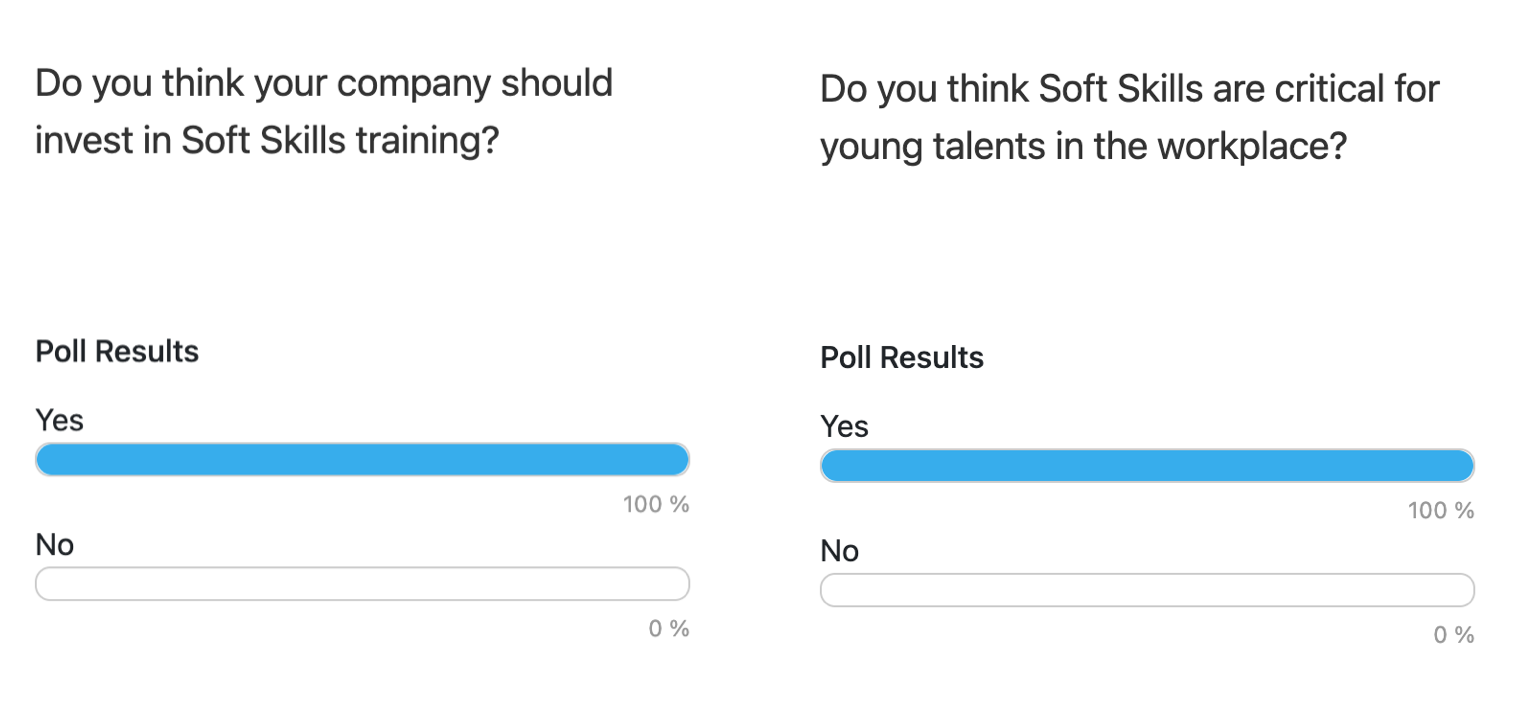 Students' hard skills are learned in the classroom, whereas soft skills come from experiences, group projects, and daily interactions, which people must go out of their way to develop. Soft skills make for a healthy working environment, drive positive change, help solve problems more efficiently, increase sales and help improve employee retention.
Before the pandemic, students and grads expressed their need for additional training before entering the workforce and continued learning opportunities. Therefore at TalentEgg, we are egg-cited to excited to announce the launch of our E-Learning Platform. TalentEgg's eLearning Academy offers courses that teach introductory workplace soft skills for students and grads and intermediate soft skills to advance careers. These courses support Canada's top talent's school-to-work transition and early career development. To learn more about our eLearning Academy and Soft Skills, download our Guide to Recruitment 2022.
THE DEMAND FOR TAKING ACTION ON DIVERSITY, EQUITY, AND INCLUSION IN THE WORKPLACE
It is now a habit for students, recent graduates, and working professionals to research each company's diversity, equity, and inclusion policies before applying. We asked attendees, "What is the most important DEI initiative in your workplace?" Among the answers were "having appropriate hiring practices in place," "accessible website," "ERG," and "inclusive recruitment strategies," to name a few. If you are a recruiter or HR professional, sit down with your company leaders and discuss practical ways to integrate diversity and inclusion into the workplace.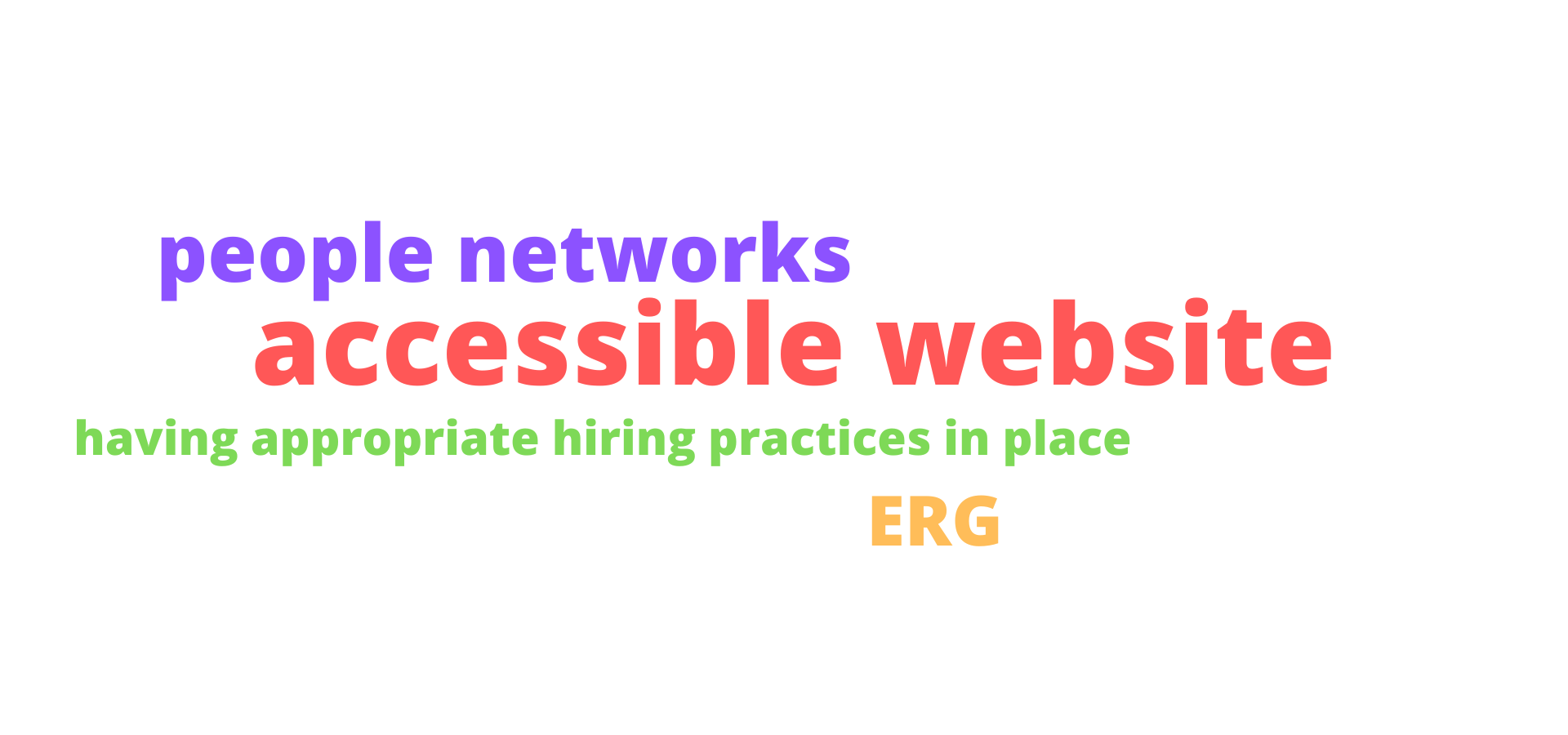 Social media, blogs, and websites are great for promoting your DEI initiatives, but it can sometimes be hard to target those initiatives to the audience you intend to promote. That's why coming soon to TalentEgg; we will be offering DEI eblasts. These eblasts will be targeted and sent to DEI clubs in over 30+ universities and colleges across Canada.
If you're unsure of what implementing diversity and inclusion initiatives or training in the workplace may look like, we at TalentEgg are here to help you take that first step. We have a whole chapter on Diversity, Equity, and Inclusion in the workplace, in our Guide to Recruitment 2022. 
NEW TRENDS FOR THE FUTURE OF CAMPUS RECRUITMENT
Due to the many options for recruiters, it can be challenging to choose where to put your campus recruitment efforts. When we asked attendees: "Do you think your campus recruitment strategies were up to date and effective in attracting young talent?" 57% of respondents answered with a "Yes" while 43% answered with a "No." When we asked them, "Do you think your company should invest in new strategies to attract young talent?" all respondents agreed that their organizations should implement new strategies.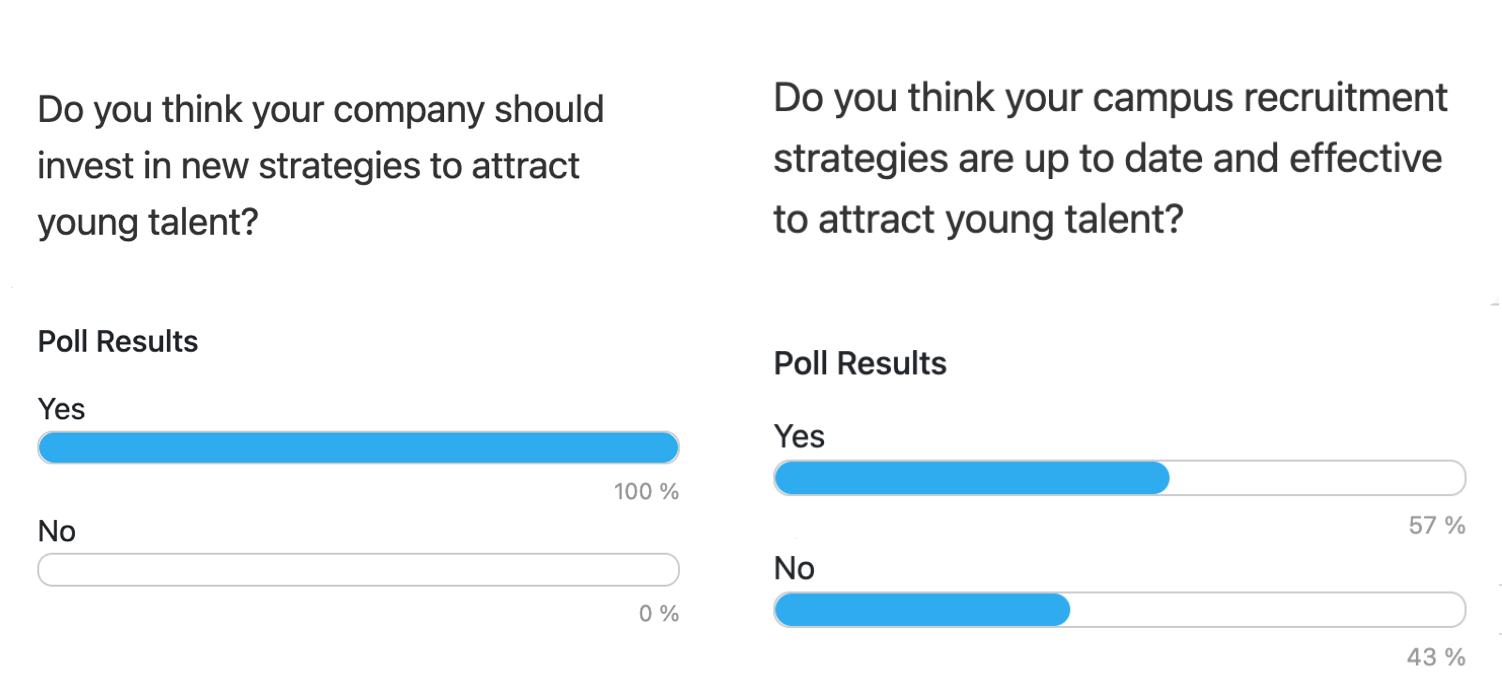 For many employers, a meaningful way to showcase their employer brand and capture students and recent grad's attention is through events. Workplaces increasingly shifted to digital events during the pandemic, and this is a trend we believe is here to stay. Having your employer brand online is also critical to capture the attention of students and new grads.
Students and new grads overwhelmingly look for jobs on job board websites. Centralizing your organization's recruitment efforts on job boards like TalentEgg is essential to developing and growing your employer brand beyond your career website to meet job seekers where they are. TalentEgg is not just a job board; we are also an employer branding platform to help you build and amplify your brand with hundreds of thousands of new grads and students.
But besides job boards, social media is by far the best way to engage students and new grads. Due to the rise of TikTok as the new preeminent platform, the digital landscape has dramatically changed. Successfully reaching students and recent grads on social media platforms requires a lot of work and time. Therefore, TalentEgg has invested heavily in the past year on Instagram and TikTok to enable our clients to use our TalentEgg platforms to access a broad audience of students and recent grads.
We are happy to announce that TalentEgg now offers TikTok Takeovers. During these TikToks, your organization can access TalentEgg's TikTok account for one week, helping showcase your employer brand.
In addition, we are also launching TalentEgg Shorts, a video series showcasing your employer brand to help you grab students' and new grads' attention. With the fast pace and engaging graphics and music of our TalentEgg Shorts, the videos will be jam-packed with information while keeping them tight, concise and compelling. To learn more about our TikTok Takeovers and TalentEgg Shorts, download our Guide to Recruitment 2022.
THE CONTINUING IMPORTANCE OF MENTAL HEALTH IN THE WORKPLACE
Finally, mental health initiatives and awareness have gone a long way in the past few years, but much work still needs to be done. We asked our awards and conference attendees to tell us, "Do you think your employer provides sufficient mental health and wellness support?" The most common answer was "Yes." We asked them, "Do you think your leadership would benefit from more training in supporting mental health and wellness of their employees?" 100% of respondents said "Yes."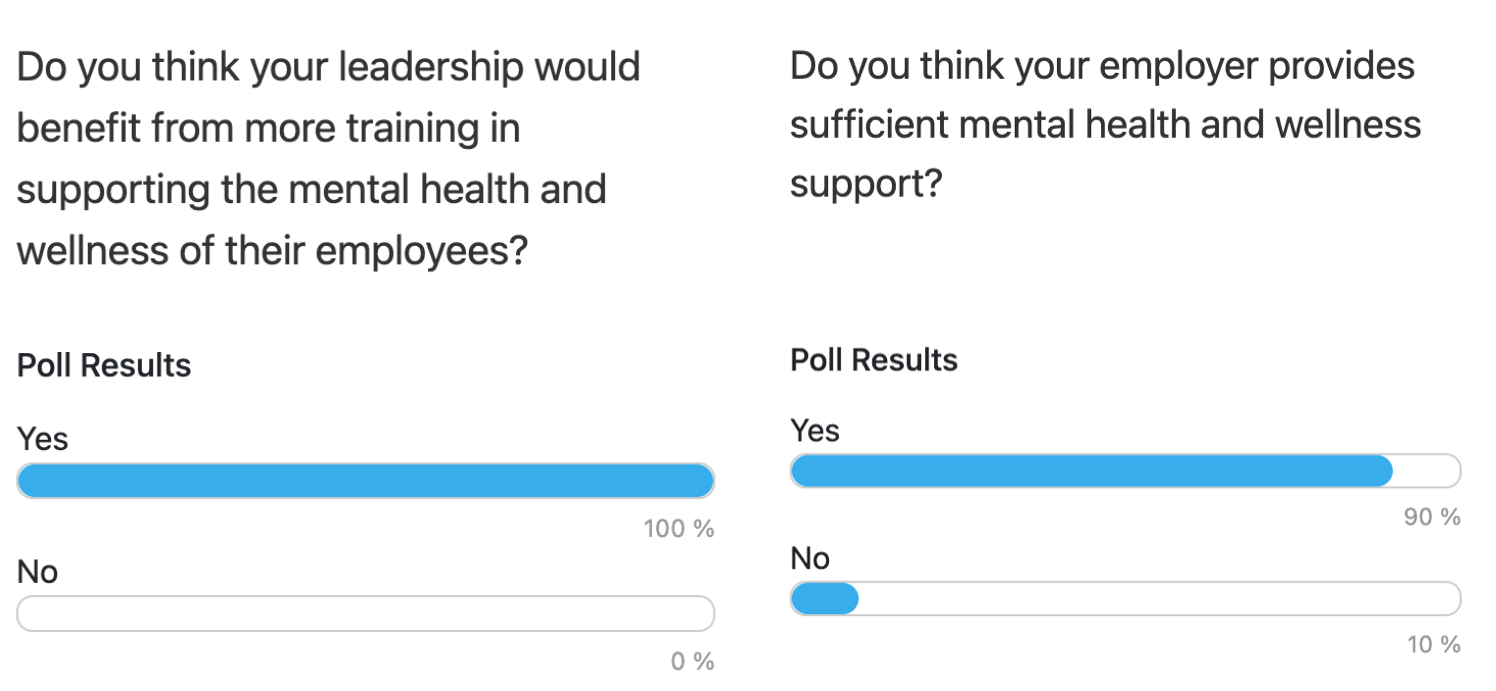 Workplaces can play a crucial part in mandating positive mental health for their workers. Furthermore, students and graduates report that mental health support at work is an essential factor in deciding where they want to work.
Here at TalentEgg, we realize that mental health training is in high demand amongst students, new grads and working professionals. We also know that as employers, schools and career centers, you want to continue to grow your mental health initiatives and create a safe and welcoming environment for all students, new grads and working professionals.
That's why we created our new Mental Health & Psychological Safety In The Workplace Master Certificate Program on our TalentEgg eLearning Academy site. With these courses designed for managers and team leaders, you can build a psychologically safe workplace where employee mental health is a high priority.
For more trends on recruitment, the new digital recruitment word, and a glimpse of the future of the post-pandemic workplace, check out our Guide to Recruitment 2022 package, brought to you by our team at TalentEgg.