It's common knowledge that employers need a web-presence and a digital strategy to promote their jobs and attract young talent. However, simply having a career website that posts job descriptions is no longer enough.
The first component of being online is indeed having a career website with compelling job descriptions and robust employer branding content. This is where you can showcase your eggs-ceptional culture, the benefits of working at your company, and your company's competitive distinctions as an employer of choice. Your web presence is the primary tool for you to attract and engage young candidates and the go-to place where they will launch their job search. In our 2019 survey, 86% of post-secondary students stated that they look for jobs online (which includes social media as well as websites), which indicates that your online presence is vital to attracting young candidates.

"Having just the right amount of information on the website and it being easy to navigate makes the user's life much easier and makes the website itself easier on the eyes." – Saisurutyi Sridaran, Ryerson University, 2021

"In 2019 you definitely need to have a website that is optimized for mobile." – Mallory Thompson, Western University, 2019
The second component is, of course, social media. It is a highly preferred method of job search and employer research among young professionals (1 to 5 years after graduation). 87% of early career professionals surveyed also prefer to look for jobs online, including social media, and there is a good reason for that. Employers who excel at finding the best candidates tend to have strong social media engagement by having authentic conversations with job seekers beyond the static one way posts. Employers with a strong social media strategy have a human voice and communicate their employer value proposition in a demonstrative way through their employees Instead of telling candidates, "working for us is awesome", make sure to show candidates what a fun, inclusive workplace culture you have, as experienced by recent hires, who candidates can relate to, in video, Instagram Stories and testimonials, creating a compelling and authentic reflection of work life within your organization.
But each social media platform resonates with a different audience, and matching the content to the best platform for the right candidates can be difficult. Where exactly do students and recent grads spend their time? Our 2019 survey proved once again that Instagram is still king with 59% of high school students, 41% of post-secondary students and 49% of early career professionals preferring that social media platform over the others for employer branding content.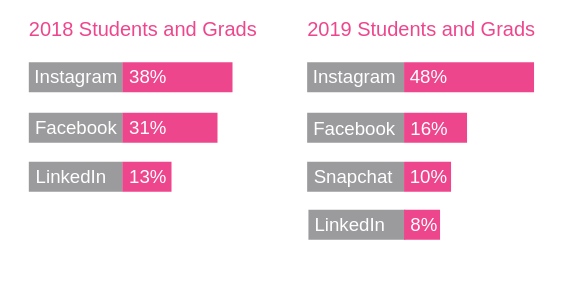 What type of content should employers post to attract maximum attention? You might have guessed it already, but video is still king as the medium of choice, and it's popularity is only increasing. 82% of high school and 69% of post-secondary respondents prefer to engage with videos for career-related information on all platforms and media channels.

The main area of concern when it comes to social media is getting around tricky social media algorithms to ensure your audience is seeing your content. While we can't fully predict algorithms, which are constantly evolving, we know that the more your audience engages with your content, the better it performs. Moreover, Facebook and Instagram are well known to favour video content and showcase it to more users on their platforms, so it's truly a win-win. With our less text-focused content for those who like getting visual information, we are shifting how we deliver your brand messaging. We communicate your values by producing videos, hosting live Q&As with representatives of your organization in a simulcast video on Facebook and Instagram (TalentEgg Talks LIVE) and creating Instagram Stories. In other words, we're bringing your employer messaging straight to the target candidate! Be exactly where your young talent pool is – on Instagram, and engage in an authentic way through Instagram Takeovers and TalentEgg Talks LIVE Events. The great value-add is that if your existing social media followers aren't Gen Y and Z, we can help you build out that audience on your own social media channels. The video recording also makes great content for your Employer Profile on TalentEgg and can be repurposed and re-edited by TalentEgg for short video clips on social media to continually refresh your feed with snappy, well packaged video shorts.
Even though video is king and social media is rising, direct email remains a strong medium for the delivery of career-related information among students and recent grads. The convenience of receiving targeted job alerts in the candidates' inboxes, the ability to customize which content reaches them, and the ease with which the job seekers can find emails tailored to their needs, all attribute to email's continued popularity. Our research indicated that 60% of post-secondary and 52% of early career professionals prefer email communication for job postings, indicating that while candidates like learning about employers on their smartphones and social media, they still prefer to actually apply to jobs from their laptop. With our ability to personalize and create custom email blasts for our clients, we're targeting your employer brand message directly to students and grads.

Year after year, our Incubator blog is an invaluable resource for students and grads who are hatching their careers. Our custom editorials highlight various features of your organization to amplify your employer brand and connect with our audience. In our 2019 TalentEgg Survey, we asked what type of content students and grads wanted to read about and they overwhelmingly connected to editorials that were easy to read in Q and A format, enjoy resume and interview tips, day-in-the-life stories about young relatable employees and appreciate interviews with recruiters, interns and co-op students from your organization. Many of these topics provide an inside look into the company's culture – exactly what our respondents care about the most. Every demographic we surveyed said that the most important thing they look for in an employer is positive and friendly company culture (92% of all respondents, including high school students, post secondary students and grads, and early career professionals).

Managing a company's reputation is another important task. 68% of post-secondary students state that negative company culture or workplace, bad online reputation and negative candidate experience are the most important factors when turning down an employer. That is exactly why it is so important for companies to tune into the social conversation about their brand, create a positive candidate experience, and highlight their engaged and inclusive employee culture!

94% of students believe that it's somewhat to very important for employers to have a strong online presence. This includes your social media presence and website usability. If students can't find what they are looking for easily and in an engaging way, they are on to the next thing. We know that students are busy with school, work and social lives, and if they need to search in multiple areas or click through multiple pages, you'll likely lose their attention. That's why our custom employer profiles are a one-stop place for job seekers to learn more about your company, as well as explore jobs and events. It's also a great place to post your employer branding videos, social media clips and editorials.  
Testimonial from a student: TalentEgg helped me obtained numerous information regarding the internship opportunities with your all-in-one platform.
Keeping all of these factors in mind can be very overwhelming, especially during a busy hiring season. TalentEgg is here to help. With our trusted and talented team of writers and account managers, we can help you craft and execute your employer branding strategies to attract the best of the best in campus recruitment and beyond. Visit talentegg.ca and keep reading this guide to find out how eggs-actly we can assist you on this journey.