It is common for students to not have it all figured out. Choosing and committing to a career path can take the form of many shapes, and it is no easy feat to determine it by yourself. As a Co-op Coordinator for the Applied Science Co-op program at the University of British Columbia, Nayelli Perez understands the struggle that students face. That's why as a career educator, Nayelli is passionate about helping students find and be successful in their co-op roles. Additionally, Nayelli also does 1-on-1 appointments with students to go over their applications for co-op roles and to provide coaching on how they could navigate the workplace! 
We recently interviewed Nayelli to learn more about her work with students and soon-to-be-grads!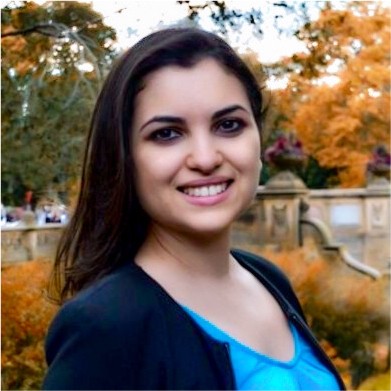 Q. Tell us a bit about yourself!
A. After graduating with a Master's degree in Counseling, I landed in the dynamic world of higher education. I have an extensive background of over 10 years in career counselling. 
Over the years working in higher education, my positions have ranged from being predominantly career coaching to becoming more involved with employer relations. I also have wide ranging interests that I incorporate into my work – such as economic development, urban planning and entrepreneurship. What my interests have in common is that they go along with my passion of helping people and societies reach their highest (and most authentic) potential and work together to push society further.
I also enjoy using my interests of connecting ideas and creating relationships to assist employers with their campus recruitment strategies – coming up with new programming and events that employers could take part in to meet students, recruit for their positions, and develop a talent pipeline!
Q. Why did you decide to go into Career Education?
A. I got into this field by happenstance, really. I feel like my purpose in life is to help people find their path and learn more about themselves. Originally, I thought I would be a guidance counselor for high school students, but ended up working for a university (Hofstra University) right out of graduate school. 
Through working at Hofstra, I ended up working at a career centre and haven't looked back. As a young person, I didn't know about careers in higher education and career services. But once I entered that type of career I really enjoyed it. There's a sense of gratification when I can help a student reach their career goals.
Q. What do you think employers can be doing to best support students and new grads in hatching their careers in the age of digital recruitment and hybrid work?
A. I think employers need to recognize the hybrid, digital world we are living in. Especially in 2022, more and more employers are beginning to fully embrace a hybrid or permanent remote working model. 
Additionally, I think that type of work environment makes more sense from a sustainability and economic point of view. Cost of living in Canada is high and public transportation infrastructure isn't the greatest, which means that it costs more money and time for people to get to work or live close to work. If employees are spread thin with commuting time and/or financial strain, they are not going to be able to perform as well and/or will ultimately move on to companies that will provide them the opportunity to perform at their optimal level. Because of that, hybrid and remote working environments really make sense in the Canadian context. 
If employers are going to have a remote or hybrid work environment, they'll need to think of what supports their employees will need for that – what home office equipment can they provide, how can they ensure that team building will still occur and how can they continue to motivate staff when they are not all working in the same office. I think many employers have shown that it is possible to do, and more will continue to do so.
Q. What do you think students and employers need to understand when it comes to DEI?
A. I think DEI should really be the foundation of everything we do in career services. For students, I think it's important for them to understand what are their rights in the workplace (in regards to being treated with equity and respect in the workplace) and how to identify whether a company has a commitment to DEI. 
Moreover, I think employers need to understand how their workplace culture and practices may not always be equitable and/or inclusive, even if that's how it's initially perceived by those reviewing them.
Advice and Insights
Q. What do you think is the best way for employers to connect with and attract top students right now?
A. I think employers should keep in mind the benefits that the current generation wants in the workplace. For instance, some of these benefits include freedom of where to work, support in professional and career development, and encouragement of mental health, health in general and work life balance. These benefits have evolved significantly due to the changes that the pandemic has brought about. 
Employees don't just want to have a job, they want to be in a work environment that supports their authentic selves in a way that is holistic.
Q. What's your best advice for fellow Career Educators?
A. If I had to narrow down my best advice, I would tell Career Educators:
Continue to learn how the world of work is changing
Reflect on the lessons you have learned in your career; those lessons will be ones you can impart to your students and/or employers
Continue to learn who you really are. By being true to who you are, you are best able to help others do the same with the career advice you give
Q. What is your best advice for students who are looking to start their careers in this current environment?
A. My best advice for students in this current environment:
Be agile. The career landscape is always changing. Jobs become obsolete; new ones emerge.
Work for organizations that share your values. It can be draining to work at a place that doesn't know how you best work and the lifestyle you want to have. There are plenty of choices in careers and places to work and employers are adapting to the desires of the workforce. You don't have to sell yourself short.
---
About Nayelli
Nayelli is a Co-op Coordinator at The University of British Columbia who has over 10 years of experience in career coaching. She is passionate about providing students and working professionals with the tools they need for determining, establishing and succeeding in their careers, as well using her wide range of interests to help find dynamic approaches to campus recruitment strategies!
Connect with Nayelli on LinkedIn https://www.linkedin.com/in/nayelliperez/ and visit https://coop.apsc.ubc.ca/ to learn more about the University of British Columbia and how their Applied Science Co-op program remains one of the most successful programs in the country.