Fidelity Canada is part of the broader group of companies collectively known as Fidelity Investments, one of the world's largest providers of financial services. An industry-leading investment firm, Fidelity Canada's mission is to empower Canadians to achieve their financial goals quicker than they ever imagined.
TalentEgg was given an exclusive opportunity to speak with Diana Godfrey, the Senior Vice President of Human Resources & Corporate Affairs at Fidelity. We received an inside perspective regarding Fidelity's company culture, mental health resources, student initiatives, the importance of DEI, and so much more.
Before starting her 20+ year career at Fidelity, Diana worked in various marketing and accounting roles. HR work was her forte at the company for most of her tenure. As the company evolved, so did her role, allowing her to work with various groups. Recently, she took on Corporate Affairs in addition to HR, expanding opportunities for collaboration amongst a diverse team.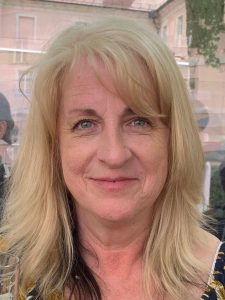 Diana Godfrey, the Senior Vice President of Human Resources & Corporate Affairs at Fidelity
Initiatives for Young Professionals at Fidelity
Fidelity places high value on their student program and recognizes the importance of developing the next generation of talent. Diana was eager to share more details about this prolific program.
"Fidelity's student program is designed to provide hands-on work experience coupled with personal development workshops to help set students up for success when they graduate," she shared. "Students and new grads can find themselves in roles where they are contributing impactful work for the company. We're lucky to have so many of our students become full-time employees once they graduate."
It should be noted that Fidelity offers high-level workshops for their young employees. They range from more technical skills like Microsoft Excel to developing soft skills like emotional intelligence training and everything in between. Diana also touched on the importance of teaching the ins and outs of the investment world, along with financial wellness and investment literacy.
"To reinforce Fidelity's commitment to financial wellness, we offer students product study groups to learn about the investment industry at large," she adds.  "This is imperative to the success of not only our students, but all our employees."
This plethora of resources highlights Fidelity's stake in its young workforce. Their commitment to furthering this group's skill base and professional development is extraordinary.
"We recognize the immense value that students and young people bring to our organization," adds Diana. "With endless opportunities for their impact and to help grow and evolve our business, we're committed to keep growing our diverse student community."
Student and New Grad Opportunities
After delving into the student program, what sort of opportunities can students and new grads expect at Fidelity?
Those who come to Fidelity for a co-op term will often opt in for a future term. For these future terms, students can work with different teams or areas of business. The "rotational student program" is an excellent opportunity for young employees to learn more about the company, while testing different roles to see where they fit best.
"We see our co-op program as a 'rotational program,' where students are encouraged to return for multiple placements, though always in different business groups."
Diana took this further, "We offer several avenues for students to learn new skills, gain new insights, and get exposure that can inspire current and future aspirations."
She highlighted several critical initiatives for students and new grads at Fidelity. Q&As, case competitions, and mentorship programs, to name a few.
Fidelity recently launched an investment literacy video series called Money Gains, which targets high school students and teaches the fundamentals of investing through relatable examples. Diana also told us they host the "Fidelity NextGen Women's Summit," an annual event for women in university to learn about Fidelity through workshops, panels and more. Fidelity strives to create a workplace where the opportunities are endless for students and new grads.
How Fidelity Measures Success
As our talk progressed, we discussed what defines success for an employee at the company, as well as making sure employees' voices are heard.
"One of the biggest ways we define success as an employer is to actively listen to employees and base future decisions on what's most important to them," she says. "Two-way communication is so important in achieving our goals collectively."
Employee engagement surveys, employee feedback surveys, "town halls," and quarterly meetings are vital for gauging employee success, answering their questions, and ensuring their voices are heard.
One innovative program Diana highlights is Fidelity's "Voice of the Employee." The program "encourages employees to submit ideas that can help improve and streamline the business. All ideas are reviewed by a committee with representation across the business, and those selected for implementation qualify for monetary rewards."
Diana adds that this program has expanded to gather feedback on its new dynamic working program, Fidelity's hybrid working model, and corporate sustainability. These strategies ensure all employees are content and working to the best of their abilities.
Fidelity's Dynamic Working Program
Post-pandemic, there have been many conversations about returning to the office, staying remote, or opting for a hybrid model. Hearing from Diana on this matter and Fidelity's dynamic working program was fascinating.
This hybrid model was launched in September 2022 to improve the employee experience. Fidelity works with their employees to find the best schedule for them.
"Depending on an individual's role and the needs of their team, department and the business, working with their managers, employees can determine a working pattern that incorporates visits to the office and working from home," Diana shared.
But that's not all. Renovated offices, enhanced cleaning, desk booking, employee lockers, "treat days," catered lunches, Gen Z social and networking events and on-site baristas, are just some of the perks employees can enjoy in office. She also stressed the importance of maintaining a healthy work-life balance for Fidelity's employees.
This program has been an enormous success for its employees, Diana discloses.
"Fidelity Canada employees have adjusted exceptionally well to our future of work program." In fact, they've been recognized by Benefits Canada, winning their award for Future of Work Strategy.
Mental Health Initiatives at Fidelity
In the modern workplace, the focus has shifted to promoting well-being and mental health. More and more initiatives are coming to the workplace to improve mental health as the demand for it grows.
What strides is Fidelity making to prioritize mental health in the workplace? "The strength of Fidelity Canada relies on us supporting employees in the form of physical and mental health to be their best," Diana divulges. 
Upon diving more deeply, we discovered plenty of initiatives and resources in place for employees at Fidelity. 
Discounted gym memberships, counselling, benefits, and various mental health training, amongst many other progressive initiatives, are in place at Fidelity.
"We're also committed to reducing mental health-related stigmas and continuously fostering an environment of well-being and inclusivity."
A significant point Diana circled back to was the importance of work-life balance at Fidelity. Flexible work schedules, paid family care leave, and programs for future retirees, amongst many more initiatives, are in place.
Diversity, Equity and Inclusion Initiatives at Fidelity
While discussing prevalent issues in the modern workforce, DEI (diversity, equity and inclusion) was brought to our attention.
DEI is a significant priority in the workplace. Diana concurs and says Fidelity is committed to DEI and would say it's one of Fidelity's greatest strengths.
"At Fidelity, we prioritize diversity, equity, and inclusion to create an environment where every employee feels like they belong," she continues. "A diverse team means having different viewpoints, which leads to better decision-making."
Continuing on this topic, the issue of unconscious bias in the hiring process became apparent. Diana discussed several actionable steps Fidelity has taken to ensure that their hiring practices are unbiased and fair to all.
They employ proven methods to mitigate hiring bias, including gender-neutral and inclusive job postings and evaluating candidates solely based on their skills rather than personal characteristics. Diana adds that their hiring managers undergo training on unconscious bias and managing bias in the hiring process to actively promote fairness and inclusivity in their recruitment procedures.
Diana feels this training is imperative to unbiased hiring. "By providing our hiring managers and talent acquisition professionals with this training, we help them recognize and mitigate any unconscious biases that may impact their decision-making."
"Diversity, equity and inclusion are more than just buzzwords; it is not just a policy or checklist, it's at the core of who we are. It makes our workplace better for everyone and makes us a better company."
Final Sentiments
Before we ended our discussion, Diana wanted to share a last sentiment about what it means to her to work at Fidelity.
Diana closed out our discussion by sharing, "it's a privilege to be part of an organization who cares about their employees, clients and the communities we live and work in," she states, "We've established a strong people-centred culture that delivers an employee experience where everyone feels valued, included and well supported, which sets us apart as a top financial services provider and employer." 
To learn more about how Fidelity approaches careers, you can visit: Fidelity
---
Visit talenteggtrends.ca for more up-to-date employer, school and career centre news, tips and information!