Workplace culture is an important aspect of any happy and productive working environment. There's something to be said, though, about organizations that go above and beyond to showcase what the culture in their workplace actually looks like. Students, new grads, and early career professionals are digitally savvy and do their research to find the best fit for them. Even if your workplace culture is out-of-this-world-amazing, are you telling your story effectively? Are young candidates seeing it, hearing about it, watching it? If they aren't, there's a chance that you're losing top candidates to other employers who are taking the extra steps to highlight the quality of their teams, culture and why they are the best place to work.
Export Development Canada (EDC) is one of those employers who strongly supports employee culture while also showing it in an authentic and engaging way. We had the chance to speak with Gaby Patenaude from EDC who shares how their organization lives and breathes culture, community, personal growth, professional development and so much more to ensure that candidates know that they are working for one of the best employers in the country. Read the full interview below.
Meet Gaby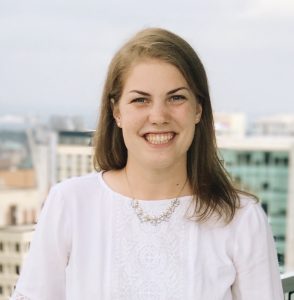 Gaby is the Campus Recruitment Program Lead at EDC and has been with the company for three and a half years. Starting as a new grad, Gaby knows first hand what it's like to make that school-to-work transition. She also understands how important it is for employers to step up and showcase what it's like to work at a particular organization. Gaby manages the whole student-employee lifecycle – from campus events, partnerships with schools and interviewing candidates, to providing programming, onboarding and support once students are in the door and on the payroll.
'Go, Grow and Succeed' at EDC
EDC's culture is unique with a variety of inclusive employee-led committees, community giving programs, professional development workshops, and a "state-of-the-art gym" to support their employees — both in work and in personal growth. "As someone who was really actively involved in my university community, I really value the giving nature of EDC," Gaby comments.
"Community involvement is embedded in everything we do, whether…when EDC employees worldwide take a day to do volunteer work with over 40 organizations or to our stellar CSR practices embedded into the business transactions we make every day. I think that kind of purpose is really what younger generations seek in an employer. Somewhere where their values can come to life at work."
Having initiatives like employee-led committees also allows employees to connect with so many more peers and leaders that they otherwise wouldn't have access to. "It lets employees feel like they have a wide variety of what I like to call 'work extracurriculars' because there are so many ways for people to get involved at work outside of what is listed on their job description."
"Through these committees and their events, I have met so many new people and flexed new muscles as I took on side projects totally unrelated to my role. That is so rewarding and definitely lends to an inclusive workplace culture. No matter where people are in the hierarchy, they can really make a difference."
Shouting Out Your Culture To Top Talent
All of these amazing initiatives and activities that are ingrained in the culture at EDC would be lost on new candidates if their team wasn't active both on-campus and online to spread the word. Gaby cautions employers not to completely limit themselves to one strategy or the other, but to really look for a balance. "It's a balancing act of that digital side to reach broad audiences, but [also] creating a space for highly specialized, in-person interactions." EDC has found that dedicating specific and targeted strategies to both digital and in-person experiences has been enormously beneficial in their overall recruitment and employer branding strategy.
"TalentEgg has been instrumental in us reaching broad audiences with country-wide digital campaigns with hot new tools like Instagram takeovers. The nice thing about digital content is that in most cases it is there to stay and you keep referring back to it if candidates want to do any self-led research. I think it's important to have digital brand awareness about your employer."
Striking that balance, Gaby found that the most success they've had is with smaller scale, highly specialized events.
"For instance, partnering with campus clubs and associations to host case competitions in topics where we want some fresh insight, or hosting career spotlight events where students come and experience what it's like to work in a certain role or career."
Tell Your Story Authentically 
While it's vital to tell your employer story both in-person and online, Gaby stresses that it's important to have authentic and transparent content.
"I think the more transparent the better! We've found the best success in our recruitment campaigns when we really connect with students. For example, during our Instagram takeover with TalentEgg, we let a student a day take over TalentEgg's account and take us through a day in their life: from their walk to our downtown office, to their 1:1 with their leader, to their gym session at lunch, or lunch on our rooftop patio. This was a way better indication of their impact and life at EDC than any thoughtfully worded job poster."
Gaby also stresses the importance of showing candidates that you truly care about them as a potential hire, that they aren't just another number. EDC did this by hosting a TalentEgg Talks Live where students and grads asked Gaby live questions. She was able to give the audience across Canada a deep-dive 30-minute session about EDC instead of a quick 1-minute conversation at a career fair.
"Recruitment is all about allowing the candidate to really be able to picture themselves in a role and envisioning their happiness and success in that role. TalentEgg has been great in shining light on the new and upcoming strategies for things like social media recruitment marketing, mobile marketing, and others. This has also been proven in bringing students into our office and introducing them to employees. It allows them to put a face to a job and see what someone's career path was to get to where they are."
Advice for Fellow Employers and Final Thoughts
"It's important as an employer to show that you are developing people and not just employees. It's a two-way street – employees will invest more in their jobs if they know their employer is investing in them. The reality is that if you as a company aren't staying up on trends, or putting in a caring approach to employees, those employees will go to the next employer down the street that is doing a better job. So I think employers really have an obligation to take their employees seriously and give them the best caring culture to support their best work."
That's one of the reasons why Gaby started her career with EDC. She emphasizes why it's so important for young people to know that their employer will be there for them in the best of times to push them forward, but also on those not so great days.
It's important to not only rely on being present online and on-campus, but also to tell your employer brand story, bringing it to life and helping future candidates see what their future could be like at your organization.