When dealing with digital natives, it's only natural they would have a preference for online content. However, in the case of recruitment, post-secondary students highly value face-to-face interaction with potential employers as well, although increasingly in unconventional ways!
In our survey, we found that more students have attended Career Development events, such as workshops, information sessions and keynote speaker presentations compared to Career Recruitment events like career fairs. That being said, the survey results still support the importance of connecting with students on-campus, regardless of the nature of the experience. 60% of students attended 1-5 career development events versus 54% of students who attended 1-5 career recruitment events. This means with the high costs of travel and accommodation for your recruitment team, your time on campus should be wisely spent! With TalentEgg's hard-to-miss, large format murals, your company can still maintain a brand presence on campus even after your recruiters leave and reinforce your EVP to more students in high-traffic areas.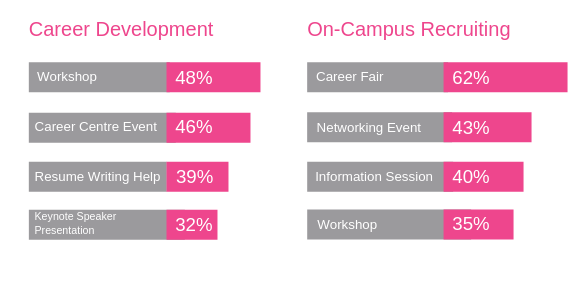 Students who do attend recruiting events on campus still prefer Career Fairs as their number one choice, followed closely by networking events and information sessions. Make your time on campus meaningful by ensuring your booth stands out from the crowd. With TalentEgg's in-house design team, we can create custom retractable banners and other event materials for your team to bring with you on campus.

"I think the on campus interview strategy is definitely very good. Sourcing talent from the spot is great and definitely helps relieve some of the anxiety around interviews (That I've definitely had) I like this idea." – Mallory Thompson, Western University, 2019
Now, how about connecting with students on campus without physically being there? You can combine the best of both strategies with TalentEgg's geo-targeted mobile marketing campaigns. Depending on your recruitment needs, we are able to geo-fence specific campuses, schools, and even academic departments and deliver to them engaging and compelling employer branding ads. Whether you're looking for the best engineering students at McMaster University or the brightest communication students at Carleton University, we are able to reach your ideal candidate. With more than twice the industry standard in CTR (click through rate) we can measure how much the targeted candidates engage with your job opportunities and employer brand. We can even retarget them across devices after they leave the geo-targeted location for up to 90 days, to remind them on their mobile phone, their laptop and their tablet about your jobs and EVP. Using keyword search capabilities we can drill down to those who have demonstrated their interest in your industry or company as they search the web. It's a perfect way to reach busy Gen Y and Z job seekers wherever they are and to reinforce your employer brand to the right candidates for your opportunities.
"I love the idea of strategically hiring at campus fairs. Truthfully, I hate going to a campus fair to be handed a sheet of paper telling me to apply online" – Sarah Pointer, Mount Royal University, 2020
Make the best use of your strategies on and off campus to reach your future talent pool. By utilizing all or a combination of the tactics above, you'll be sure to communicate to students exactly the way they want to be reached! Strengthen your presence and stand out as an employer of choice with TalentEgg's cutting edge digital marketing tools and on-campus services!