As the first truly digital generation, Gen Z has grown up with technology at their fingertips. Therefore, businesses and recruiters must know how to capture their attention online. Here at TalentEgg, we spend every day engaging with this exact demographic, and as a result, we have uncovered our top 5 ways to catch Gen Z's attention:
Utilize Social Media
Gen Z is highly active on social media platforms such as TikTok, Instagram, and YouTube. Creating engaging content and targeting your ads to the right audience is critical to reaching this demographic. That is why TalentEgg offers targeted and successful social media ad creatives that are eye-catching. Social media ads use effective algorithms to target the exact audience you want to reach.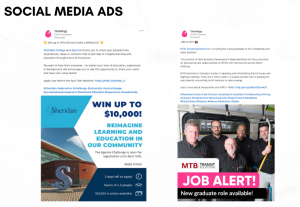 Make it Appealing
Incorporating visually stimulating content such as videos, music, and compelling images into your online marketing strategies is vital when capturing Gen Z's attention. These types of short-form videos remain one of the most effective mediums to connect with students and new grads. Concise, informative, one to five-minute branded videos are increasingly popular as students are more sensitized to quick, easy and immediate content. That is why TalentEgg offers TalentEgg Shorts! TalentEgg Shorts is a video series showcasing your employer brand that grabs students' and new grads' attention. You can film up to five one to five-minute episodes for your TalentEgg Shorts Series!  

Keep It Real
Gen Z highly values authenticity, and they can easily detect when something is inauthentic. To ensure your messaging is genuine, it's essential to use real people in your ads or branding and keep your messaging transparent and honest. That's exactly what you can do during TalentEgg's TikTok Takeovers! During a TalentEgg TikTok Takeover, your organization can access TalentEgg's TikTok account for up to five TikTok posts for one week. From tips and tricks videos to TikTok dances with your team, this is your chance to "video-ize" your employer brand and give a genuine and authentic look into your company culture.  

Make It Interactive
Engaging with Gen Z is crucial; interactive elements like quizzes, polls, and social media challenges can help. Using TalentEgg's Instagram Takeover will make the most of these opportunities. By creating polls, quizzes, Q & A's and giveaways, you can showcase your company's strengths and demonstrate that you care about connecting with your target audience in ways that matter to them. These interactive strategies will keep your target audience returning and grow your employer's brand recognition.

Be Mobile-Friendly
Given that Gen Z prefers to interact with content on their phones, optimizing your website and all employer branding content for mobile viewing is crucial. That's why TalentEgg provides a mobile-friendly, customized employer profile on TalentEgg.ca.  Your company's employer profile on TalentEgg.ca is search engine optimized so that you can amplify your employee value proposition more effectively. This employer profile is the starting point for students, recent grads, and early-career professionals to learn about your organization's employer brand, career opportunities and recruitment messaging.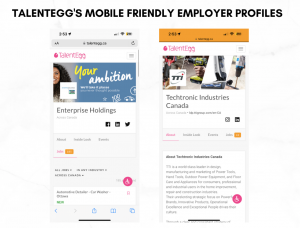 At TalentEgg, our team of Gen Z marketing experts can help you achieve your employer branding goals. We are just scratching the surface regarding all the important ways of capturing Gen Z's attention online! So, if you want to learn more about how to reach Gen Z effectively, contact our recruitment marketing experts today at info@talentegg.ca, and TalentEgg will grow your employer branding strategy to new heights!