In recent years the prominence of corporate social responsibility (CSR) has grown to become a core activity of most businesses, but why is it so important for you as an HR professional? CSR initiatives helps build your company image within your community, but it also improves your employer brand and helps to attract and retain top young talent. Showcasing your CSR initiatives as part of your employer brand is more important now than ever, as a growing number of students, new grads and early-career professionals actively seek out a caring culture in potential employers.
In our 2019 TalentEgg Survey, an astounding 90% of post-secondary students ranked social responsibility as important to very important, for a company to be involved in, and that's 15% more than last year! You may be thinking: "Egg-cellent, my company has several CSR initiatives." But it's not just about participating in CSR initiatives. It's critical that you effectively communicate your involvement to your target demographic and help them connect the dots between your commitment to community and your commitment to employees.
TalentEgg's blog, "The Incubator", provides various career-related articles to help students, new grads and early-career professionals navigate their way from school to work. Our range of topics cover everything from the importance of volunteering to different companies' involvement in their communities.
We also work with employers to write custom editorials and produce videos to showcase their CSR initiatives to help them reach our audience of young and passionate job seekers. In 2018, we worked with Mercedes-Benz Financial Services to create a custom video about their changing corporate culture with a focus on collaboration and community work. The video follows employees spending the afternoon at their local food bank. Cindy Voskuil, an HR Business Partner at Mercedes-Benz says: "It gives you a sense of pride to see that your work actually wants you to go out and take you away from work to spend your time giving back to your community."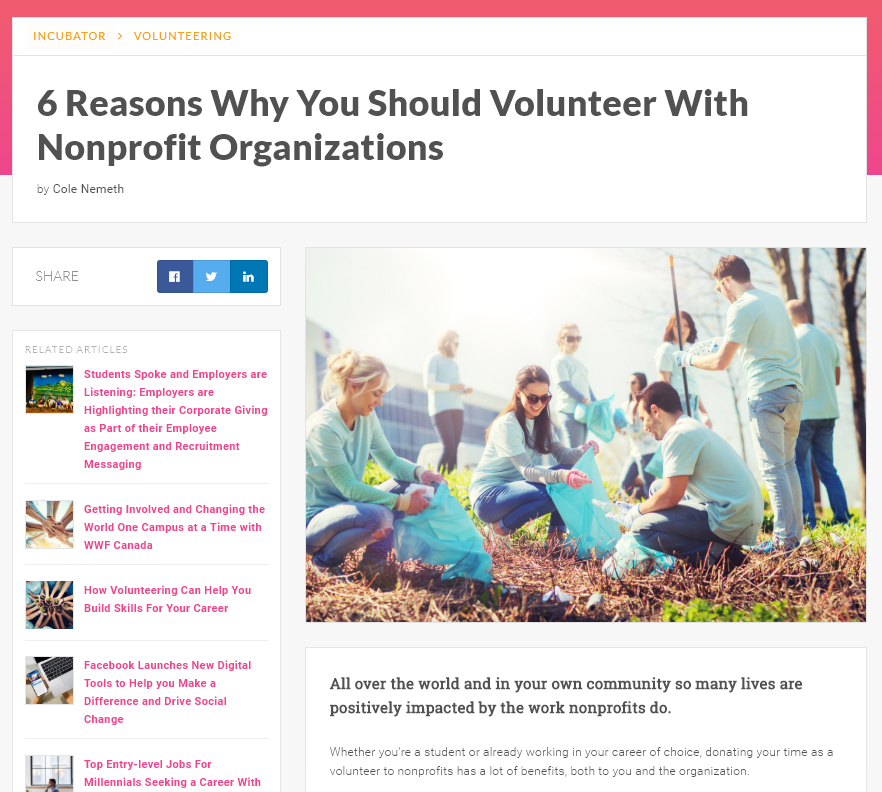 Providing these volunteer opportunities for employees is also a vital part of engaging and retaining your talent. Our survey found that 81% of high school students, 75% of post-secondary students and 64% of early career professionals volunteer. An additional 65% of total survey respondents currently don't volunteer but want to, they just don't have the time or don't know where to start. Providing your employees with these volunteer opportunities as a part of their work shows your commitment to not only your company values, but also your employees' values and their development. 37% of survey respondents state that having an employer whose values match theirs is an important factor in choosing a potential employer.
"I think it's awesome to give employees volunteering days (that are also paid). You sometimes forget to volunteer because it's usually unpaid work and some people can't afford to do this, but the fact that companies specifically want their employees to volunteer is awesome."
Mallory Thompson, Western University, 2019
Are you searching for opportunities to get your employees involved but aren't sure how or where to start? TalentEgg has various partnerships to specifically guide and encourage students, new grads and early-career professionals to volunteer. Our sister company CharityVillage is Canada's most popular career resource for the nonprofit sector. We work with CharityVillage to curate our volunteer opportunities directly from their site and tailor them for our audience. We also work with our sister company Bmeaningful, that features purposeful jobs in the social good sector and provides helpful resources to help people connect purpose with their paycheque.
This year we partnered with World Wildlife Fund to encourage students to become Living Planet Leaders @ Campus. The certification provides students with an opportunity to make a difference on campus and in their communities while teaching them teamwork and leadership skills.
We have also partnered with Students Offering Support to help students make a real impact while gaining real-world experience. Through this program students are able to gain leadership skills and vital volunteer experience by leading campus workshops and helping their peers excel in their studies.
It's eggs-treamly clear that CSR is a must for employers to attract, engage, and retain top young talent. With our customized content and partnerships, we've made it easier than ever to connect with students, new grads and early career professionals all through one platform. Reach out to us to find the best way to promote your giving back initiatives and amplify your employer brand!