During our 2023 TalentEgg Virtual National Recruitment Excellence Awards & Conference, we conducted several live surveys – to try and gather insights relating to the workplace and recruitment trends. We surveyed over 90 attendees consisting of recruiters, career coaches and educators. Here are the trends we discovered and the insights you should note.
IMPORTANCE OF MENTAL HEALTH INITIATIVES IN THE WORKPLACE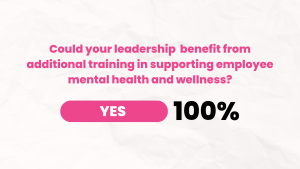 In today's world, the significance of mental health in the workplace cannot be overstated. When we asked attendees if their leadership could benefit from additional training in supporting employee mental health and wellness, an overwhelming 100% responded with a resounding "yes."
This statistic shows that mental health initiatives are in high demand amongst working professionals and that employers, schools and career centers want to continue to grow their mental health initiatives and create a safe and welcoming environment for all students, new grads and working professionals. That's why we created our new Mental Health & Psychological Safety In The Workplace Master Certificate Program on our TalentEgg eLearning Academy site. With these courses designed for managers and team leaders, you can build a psychologically safe workplace where employee mental health is a high priority.
This 10-course Master Certificate Program, developed by leading psychologists and mental health professionals, explores the many facets of workplace mental health. Clinicians will guide managers, leaders, and HR representatives on best practices and strategies for fostering psychological safety and well-being at work. The interactive modules explain the many aspects of workplace mental health, and clinicians provide clear guidance on optimally addressing these delicate and complex issues in a work setting.
Move your organization forward and build the foundation for a psychologically safe workplace where mental health and wellness are a core value and a lived experience for your employees.
EMPOWERING DIVERSITY, EQUITY AND INCLUSION IN THE WORKPLACE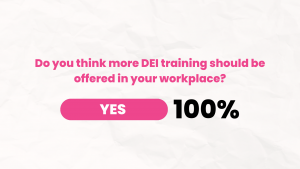 Researching companies' diversity, equity, and inclusion policies and initiatives before applying has become routine for students, recent graduates, and working professionals. That's why it is essential for employers to invest in DEI initiatives like DEI training. We asked attendees, "Do you think more DEI training should be offered in your workplace?" 100% of the respondents said yes. 
This stat shows that there is an increasing demand for DEI training. That's why we at TalentEgg have released our Diversity, Sensitivity, and Inclusion: Promoting Anti-Discrimination and Equity in the Workplace course on the TalentEgg eLearning Academy website.
We understand the importance of placing your brand at the forefront of all your endeavours. With this in mind, the TalentEgg eLearning Academy offers a white-label custom-branded version designed to seamlessly integrate into your existing onboarding training, reflecting your unique employer brand identity. Our comprehensive offering allows complete customization and branding of the courseware, ensuring a cohesive and tailored learning experience for your employees, putting your brand front and centre.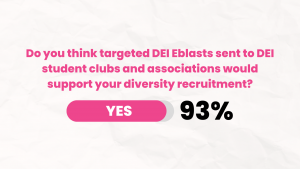 Once you invest in DEI initiatives, amplifying them is vital. That's why we asked the question, "Do you think targeted DEI Eblasts sent to DEI student clubs and associations would support your diversity recruitment?" 93% of respondents said that DEI eblasts would support their diversity recruitment.
This statistic is the reason why we are rolling out our DEI Eblasts. Our specialized TalentEgg DEI Eblasts offer an even more focused approach to reaching the precise target audience of diverse young talent. By utilizing our extensive database comprising over 1000+ DEI clubs and student associations from 30+ universities and colleges across Canada, our exclusive and one-of-a-kind TalentEgg DEI Eblasts, allow your organization to strategically target specific equity-seeking or underrepresented groups, including 2SLGBTQ+, BIPOC groups, marginalized communities, women-led organizations, and disability-focused organizations. This focused approach ensures that your DEI messaging reaches the intended audience precisely and maximizes your promotional efforts' impact while helping you accelerate your diversity hiring efforts! Inquire here to learn more.
SOFT SKILLS ARE CRITICAL SKILLS; DOES YOUR YOUNG TALENT HAVE THEM?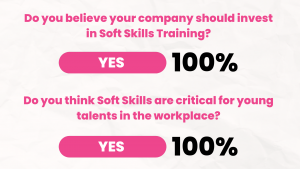 Our 2023 Guide to Recruitment highlights how imperative soft skills are for the career success of students and new graduates. When attendees were asked, "Do you think Soft Skills are critical for young talents in the workplace?" 100% of respondents agreed. When we asked them if they believed their company should invest in Soft Skills Training, 100% of the respondents also answered "yes." 
The urgency to equip students and new grads with the necessary soft skills for the workplace is apparent. It is essential to take immediate action to secure career success for your young talent. That's why we have continued to grow our TalentEgg eLearning Academy.
TalentEgg's eLearning Academy offers courses that teach introductory workplace soft skills for students and new grads making the school-to-work transition to enter their first internships, coops or full-time jobs, and intermediate soft skills to help young working professionals thrive on the job and advance in their careers. With an investment in soft skills, you will gain better-prepared, more effective and confident employees while increasing employee engagement and reducing turnovers. It's a win-win for both your young talent and your company. There is no better time to invest in your talent's soft skills. Contact us to get your custom-branded version of the TalentEgg eLearning Academy soft skills courses to fit seamlessly into your other onboarding and professional development courseware to help your new hires and existing employees be the best career professionals they can be.
From our extensive experience working with employers, students, and recent grads, we learned there is frequently a skills gap in students leaving school to enter the workforce successfully. We help employers address this gap through two specialized TalentEgg Academy eLearning Programs: Backpack to Briefcase: Introduction to Workplace Soft Skills and Briefcase to Boardroom: Intermediate Soft Skills to Advance Careers.
VIRTUAL METHODS OF ENGAGING YOUNG TALENT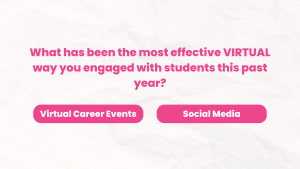 In the modern recruitment era, online and digital methods are crucial to bringing on young talent. During our "Students & Grads' Career Wishlist for 2023" panel, we asked industry professionals and recruiters their most effective virtual methods of engaging with students and young talent. The most common responses were "Virtual Career Events / Info Sessions" and "Social Media." 
In 2023, we found that 19% of students went to no virtual career events this year, and 30% went to zero in-person career events. We identified one primary reason for their limited attendance at career events.  They expressed a lack of interest and knowledge in the career fairs and events that were available to them.
This fact shows that marketing is vital to the success of your event. So it's crucial to promote your events and publish them on as many websites and social media platforms as possible for search engine optimization (SEO) purposes and to expand your reach to as many students and new grads as possible. If you are having trouble getting Gen Z to sign up for your events, you should utilize our Unlimited Event Postings, included as an essential element of our TalentEgg Annual Campaigns.
The other most effective way to engage with students and new grads is through social media. At TalentEgg, we have invested substantially in the past year to enhance our follower count, increase impressions, and drive engagement to new heights. Using TalentEgg's social media channels, followed by students and grads actively looking for jobs, is a great way to build your followers among your target candidates and support your campus recruitment outreach.
TalentEgg also offers various social media services to our clients that aid in boosting engagement and reaching Gen Z talent. These services include TalentEgg Social Media Takeovers for Instagram, TikTok and LinkedIn, TalentEgg Shorts, TalentEgg Social Media Promotion, TalentEgg Social Media Ads, and more. Inquire here to learn more.