At our 2021 TalentEgg Awards and Conference, over 80 recruiters and industry professionals attended to join us in celebrating the best in student and new grad recruitment. Throughout the conference, we conducted some surveys to uncover some exclusive insights for the future of recruitment and the workplace in our ever-changing world.
Virtual Recruitment is Here to Stay
One of the questions we asked recruiters and industry professionals was, "Will your organization continue to incorporate virtual campus events as part of their overall campus recruitment strategy?" Out of 35 respondents, 77% answered "yes," while 23% answered, "I'm not sure yet." Thus, it is clear that an overwhelming majority of participants are going to continue incorporating virtual initiatives to engage and provide students with opportunities, while the minority are, at the very least, open to the idea.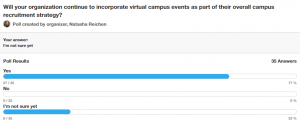 Employees Want to Return to a Hybrid Workplace
Regarding the future of the workplace, an overwhelming 79% of respondents answered "hybrid (a combo of remote & in-person) when we asked them, "What type of workplace would you like your employer to adopt?" Meanwhile, the remaining 21% of respondents answered "completely remote/virtual." Regarding the ever-changing workplace, results are indicating that the future of the workplace is going to change. For the most part, say goodbye to long commutes and face-to-face interactions in the office. The pandemic has allowed companies to adapt and overcome obstacles to remote work, and as a result, hybrid workplaces are the newest trend that is here to stay.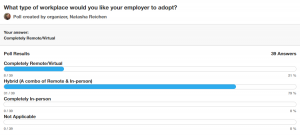 Soft Skills are Critical for Career Development
As highlighted in our Guide to Recruitment 2021, soft skills are crucial to students' and new grads' development and career success. But, what kind of soft skills, in particular, are recruiters and industry professionals looking for in the workplace? We asked our awards and conference attendees to tell us, "What soft skill do you think is the most important for young professionals to develop?" The most common answers were communication, curiosity, adaptability, leadership and resilience. Other responses included time management, flexibility, empathy and critical thinking.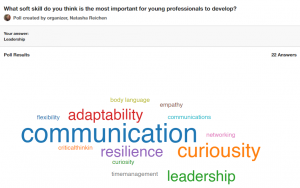 Exclusive Ways to Connect Virtually with Students
Whether you're a career educator or a campus recruiter looking for the most effective ways to engage with or hire students and grads or you're a job seeker wanting to network with employers, we've got you covered. We asked attendees, "what has been the most effective VIRTUAL way you engaged with students this past year?" and the answers varied across all respondents. For instance, 26% of respondents stated: "coffee chats" as their top pick, while 22% of respondents stated, "social media" and "networking sessions," both tied as the second most popular answer.
Something worth noting is that none of the options were left unanswered! Although coffee chats, networking sessions, and social media were the most popular answers, there is still value in investing time and effort into other initiatives such as information sessions and case competitions.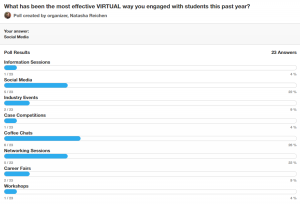 The Demand for Diversity, Equity and Inclusion in Recruitment and Employee Engagement
Finally, attendees acknowledged the heightened need for employers to commit to and embrace DEI initiatives in their recruitment and employee engagement strategies. When we asked attendees "What do you see as the most transformative changes in recruitment and employer engagement around diversity, equity and inclusion in the future?" Among the answers were "top-down approach to attracting, finding and hiring diverse talent," "partnering with EDI students clubs," "open-mindedness," and "providing scholarships and support to the community." As a recruiter or HR professional, take the time to sit down with your company leaders and carefully discuss meaningful and impactful ways to embed diversity and inclusion initiatives into the workplace effectively.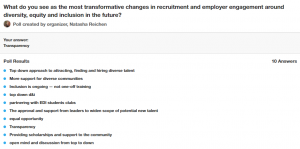 For more trends on recruitment, the trends in demand from students and new grads, and a glimpse of the future of the ever-changing workplace, check out our Guide to Recruitment 2021 package, brought to you by our team at TalentEgg.