As we complete the first leg of the 2022 Winter – Spring campus recruitment season, I wanted to take a moment to introduce myself as Director of Operations at TalentEgg.  My insights into career education and campus recruitment will be a regular feature here in TalentEgg Trends and I look forward to encapsulating all that we have been hearing, noticing, and observing in our space to share with you as a part of this community.  
Prior to joining the team this past September, I was a 11+ year client of TalentEgg and led a national career education initiative on behalf of the Insurance Institute of Canada.  I am egg-cited to leverage my background in career development, campus recruitment, and adult education in this new capacity!
To say that the campus and early talent recruitment landscape has been 'dynamic' in the age of COVID is an understatement.  Omicron has added an additional layer of complexity. And, it certainly looks like virtual recruitment and remote work, at least in a hybrid form, are here to stay. 
While there can be a lot of uncertainty for students, new grads, and early career professionals (heck, for all of us) right now, one certainty that has reemerged in recent months is that employers need talent!
Now, perhaps more than ever before, it is pivotal that, as an employer, you are weaving a compelling career narrative, employer brand, and value proposition alongside more traditional promotion of your opportunities.  It can be extremely difficult to capture early career seekers' attention and attract top talent, especially virtually, without these important elements.
In our work at TalentEgg, we see that these six approaches are consistently hitting the mark in attracting (and, retaining) students, new grads, and early career talent:
Give candidates a real look at "what's behind the curtain" in your industry and organization
Commit to Investing in skill building, early career development, and well-being of your workforce
Help candidates to standout and demonstrate their skills
Target and show up often in the digital sphere of Gen Z talent
Share compelling stories that candidates can see themselves reflected in
Take a multi-faceted and high touch approach during peak recruitment periods
This six-part series will dig a little deeper into each approach and provide actionable ways to incorporate them into your employer branding and talent acquisition strategy. 
Let's get crackin' with #1. 
It is important to think beyond what is readily available on your website or may be shared in an info session over Zoom.  Rather, focus on what it looks and feels like to be a part of your organization. Real, authentic, diverse, and easily replicable (as in not just for a privileged few) experiences are key ingredients to doing this well!
Consider, who are your best story tellers?   Then, select a vehicle to spotlight the kinds of problems candidates will solve, who they will work with, what your (virtual) workplace culture is like, and the kinds of meaningful projects they will undertake.
For example, our friends at EDC had fantastic engagement in their recent takeover of our Instagram for a day. They offered an inside look at how EDC sets employees up for success remotely, ways their Growing Professionals Committee keeps new talent connected via virtual events and regular touch points, and why their employees love working at EDC.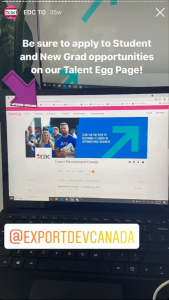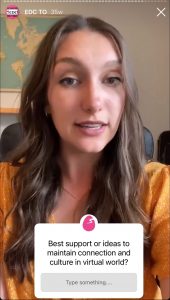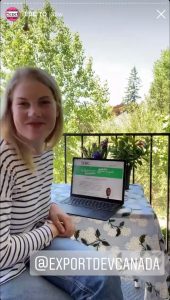 Diverse voices from multiple business areas, engagement of recent hires in the content creation, and opportunities for in-platform engagement were among the keys to success for this takeover.
Another tact is to profile your industry.  Our colleagues at Career Connections have taken to our Instagram multiple times over the course of the pandemic to:
Illustrate how the insurance industry has given back in times of uncertainty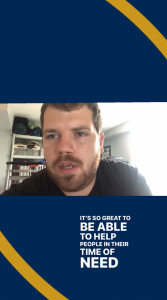 Amplify voices of Diversity, Equity, and Inclusion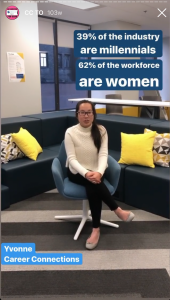 And, even how claims adjusters are using drones to assess property damage (showcasing both cool technology and how industry professionals are staying safe)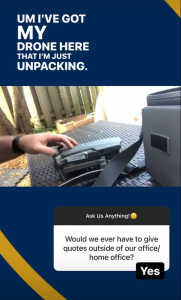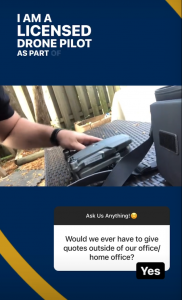 Not only can this demonstrate how an industry (in this a lesser known one) is at the forefront of gamechangers and issues of importance to Gen Z in an engaging way, but also signals the stability and variety it has to offer.
Finally, don't feel limited to just one platform.  A multi-channel approach can be even more effective! 
We recently introduced the opportunity for clients to takeover both TalentEgg's Instagram Stories and LinkedIn Feed simultaneously.  Vale, our partner in piloting this service, used a wide array of creative content showcasing mining careers, their employee value proposition, and exclusive insights into their robust student and new grad programs to tens of thousands of TalentEgg's followers at the peak of the Fall campus recruitment season.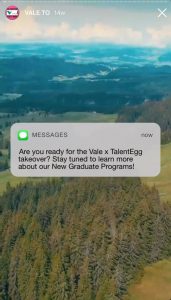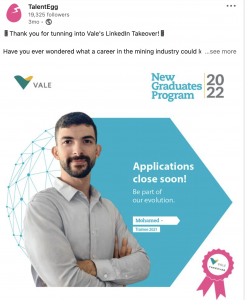 If you would like to speak about additional ways to give candidates a peek behind your proverbial curtain or ensure your employer brand is resonating in a remote world, don't hesitate to reach out.
Until next time…