This year we're so egg-cited to host the TalentEgg National Recruitment Excellence Awards & Conference VIRTUALLY on July 8th, 2020! Visit our awards website for tickets and the upcoming agenda.
For the past 9 years, the TalentEgg National Recruitment Excellence Awards & Conference has provided an opportunity for employers, accredited universities and colleges, career centres, career educators and coaches to be recognized within the industry for their excellent employer branding, career education and recruitment initiatives; and to come together to share the latest recruitment trends.
This year we want to continue to bring you that same egg-citing experience and valuable information virtually, as the safety of our clients, sponsors, industry partners and conference attendees is our priority during this pandemic. We aim to bring our attendees fresh recruitment trends, COVID-19 survey results from students and new grads, engaging panel discussions and more, that you can enjoy from home!
What to expect from the TalentEgg virtual conference:
1. An interactive and versatile platform for attendees to get the full conference experience.
The conference will be hosted on an online platform  that allows attendees to tune into live virtual panel sessions and engage in real-time with speakers to ask questions, network with fellow attendees via chat groups and more! We will share best practices and guidelines to use the platform once you've purchased your tickets. 
2. Crucial information on the impact COVID-19 has had on students, new grads and early career professionals.
COVID-19 has impacted every industry in the past few months; the new grad and early career job market and recruitment sector in Canada is no exception. We surveyed our users to find out just how COVID-19 has impacted their job prospects, their career development, and their attitude to current and future employers. We can't wait to share the trends we found and solutions moving forward. 
3. An egg-citing line up of panellists and speakers who are experts in the recruitment space.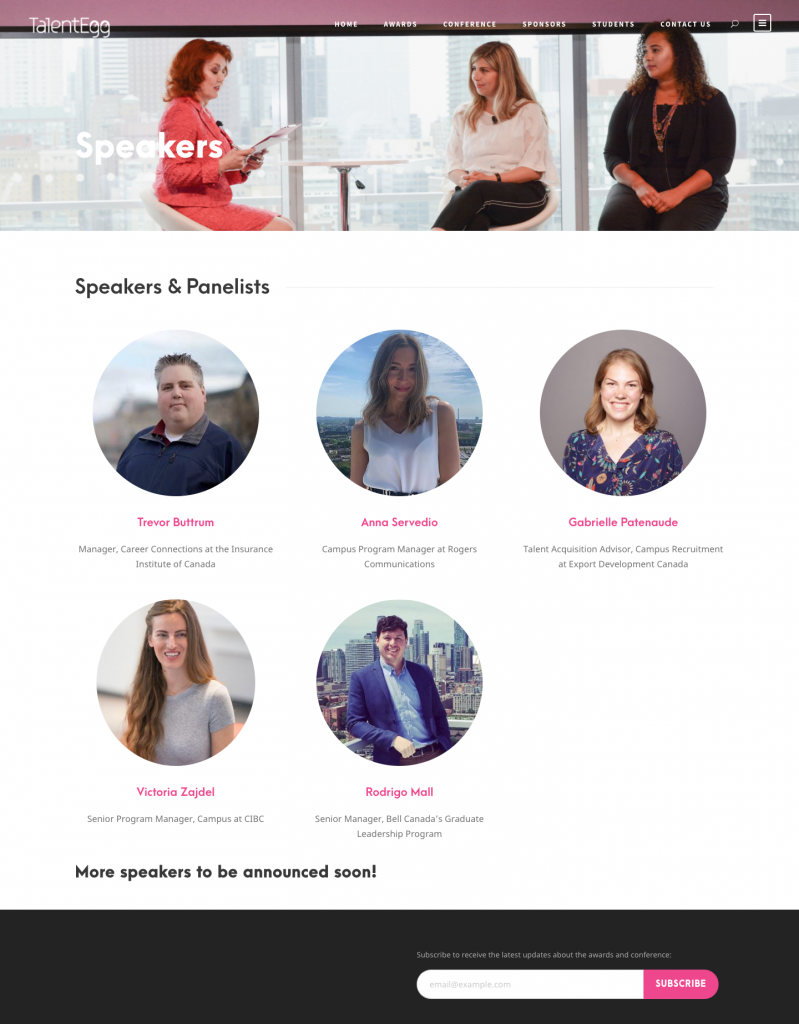 Stay tuned for more speakers and panel topic announcements. 
Although we won't have last year's stunning Toronto view, we will have the latest recruitment trends to share. Here's what last year's attendees took away from the conference:
See you at the conference!
Interested in sponsoring the event? See the sponsorship opportunities here.