Are you recruiting efforts proactive or reactive? As I asked that question to many recruiter friends, most would say that they are definitely proactive. After all, they spend countless hours at events to get candidates to apply. Then they comb through resumes to filter for the candidates that best fit their needs. For some conversations, I can see the point when they realize that they are only screening the resumes they receive. They "react" to whatever resumes are submitted to the posting. Then they ask themselves whether or not the right candidates are applying. They see how they can become more "proactive".
Another way to put this would be to imagine that your job is to find the best apple in the orchard. You want a sweet, tasty, juicy apple. However, you can only make guesses based on what you see on the outside. You want an apple that is big, but not too big. Red, but not too red.
You have two choices:
Going into the vast orchard and finding potentially perfect candidate apples.
The other is to go into a basket of apples that were randomly put there by other people.
Which option would you choose?
When I was the lead of the undergrad campus recruiting program for one of the big four consulting companies, we were often at the mercy of the quality of the candidates that applied. We hoped that our info sessions and branding got some good candidates to submit their applications. However, it wasn't until we decided to go more proactive with our efforts that we saw more fruits of our labour…
Reactive recruiters often choose the basket option. Posting a job on their corporate website and job boards. Then hoping the right candidates will apply. To "be proactive" and increase their chances of having better "apples" in their basket, they run info sessions, go to career fairs and networking events to encourage the right candidates to head into the basket. While these activities may seem proactive as they are out in the market, they are really at the mercy of whoever decides to show up. They pick the best apple in the basket. Which might not be the best apples in the orchard.
For me, the challenge of reactive recruiting was magnified when recruiting for a not-for-profit. The not-for-profit has a much less known brand and fewer resources to react to the candidates, let alone be proactive. We weren't able to attract as many of the right apples into the basket as we wanted.
Proactive recruiters will often choose the option to go into the orchard. They look at their contact list and past connections to see who might be qualified. They leverage platforms like LinkedIn to actively search for qualified candidates. They leverage their networks to crowdsource candidates. they've already built, to cast the net wide in search of the perfect candidates. They go into the orchard and fill their baskets.
Keep in mind that the orchard is huge. It would take much too long to search each tree in each part of the orchard on your own. Or it would be too costly to hire other "apple searchers" to search around the orchard where you haven't looked before.
However, keep in mind that past searches can be an investment. You might find that certain parts of the orchard have better trees. Those trees tend to yield better types of apples. Also keep in mind that you could also create some magical magnetic properties of your basket to allow apples to be attracted to your basket. You'll just need to take care that the apples you're attracting are the right ones.
To be proactive, we still did info sessions, BUT we also started implementing referral programs to crowdsource the apple search. As the saying goes "birds of a feather, flock together". So if we hired them, they'll likely have friends and acquaintances with similarly attractive characteristics. We looked to have our coops become our brand ambassadors to help spread the word on their great experiences. Great experiences seem to attract "tastier apples" (yes, the analogy gets a bit weird here, but you know what I mean).
We looked to reverse-engineer where our best candidates came from or correlating attributes so that we could hunt in that part of the orchard and look at those trees.
We judged and sponsored case competitions, hackathons and other events where we could see candidates in action. After all, the best-looking apples (according to their outward resume), aren't necessarily the sweetest or juiciest.
We look to find more innovative proactive search and attraction methods.
So as you think of all of the work you're spending to screen your apples, take a moment to think whether you're spending the time to make sure the right apples end up in the basket in the first place!
About the Author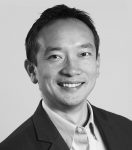 Luki Danukarjanto is Toronto's youth career coach with a goal to make Toronto the mentorship capital of the world. Published author of "SIWIKE Stuff I Wish I Knew Earlier, educator, youth startup advisor, dad. Career catalyst, "personal trainer for careers" and DJ for personal/professional development with goals to elevate education, weave mentorship into the fabric of society and positively impact a billion people. Former Senior Manager Tech Consulting with Deloitte and undergrad campus recruiting lead. Connect with Luki on LinkedIn​.