Every student has different backgrounds, experiences and displays different traits that make their own stories unique. As a Career Educator, it can be challenging to truly support someone when we fail to understand them as a person and their life circumstances. That's why Ken Lee, a Career Educator at Ryerson University, always ensures he goes the extra mile when supporting the professional development of his students.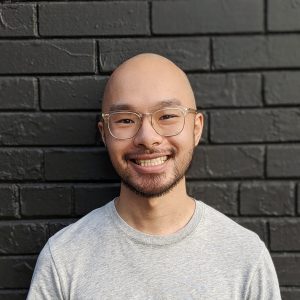 As a Career Education Specialist with the Career & Co-op Centre at Ryerson University, Ken designs and delivers high-impact programming to equip students for successful careers in a rapidly evolving world. This can range from organizing conversations where students can learn the power of their degrees to creating responsive courses in which our community can build on their job search-related skills.
We had the chance to speak with Ken to learn more about how he approaches supporting the career development of students!
Why Pursue Career Coaching?
"It was a well-planned accident, to say the least," shares Ken. "In my final year of graduation, I had the privilege to take on a work-study position where I was providing feedback to students on their resumes, cover letters, and LinkedIn profiles. I soon came across an opportunity with a non-profit organization to support community members in finding employment. I jokingly applied, thinking that there was no way I would ever get a callback. A few weeks later, they gave me a job offer!" Now, Ken has found himself on the road to a successful journey as a Career Coach. After all, he won the award in 2021 for the Best Career Coach/Educator at the 2021 TalentEgg Recruitment Excellence Awards and Conference back in June.
Meaningful Interactions
Students go through a variety of emotions when it comes to developing their careers. While some are at the top of their game with a polished resume and cover letter, others don't even know where to begin. Regardless of students' progress, anyone and everyone can benefit from receiving support from their campus's career coach.
That's why we asked Ken how he went about helping students in making their school-to-work transition during the pandemic.
"In helping students build careers for life, it is important to make sure they have all the necessary skills, knowledge and expertise to flourish by the time they graduate. This can manifest in many ways, from engaging in one-to-one conversations with students as well as facilitating webinars on different topics, such as job searching."
Student Pain Points
Job searching is a challenging process, even under normal circumstances. From the perspective of a career coach, Ken explains that a significant pain point for students is the variety of prospective job industries being significantly affected by the pandemic.
When Ken supports his students, he emphasizes the importance of showing students how to explore spaces where their skills, interests, and values intersect and reminding them of how resilient they are–all while displaying a sense of optimism.
Until now, companies have recruited students and alumni by physically visiting campuses. With the pandemic accelerating the move to virtual environments, organizations have been more creative about developing and recruiting early talent.
For fellow employers, Ken comments on the importance of preparing students for the workforce and what initiatives companies can take to showcase each candidate's strengths.
"I would love to see them continue to help students understand and develop the skills they need for their workplace and the current world of work. For example, beyond the case competitions and hackathons, consider hosting a regular monthly challenge or exercise where students can practice and flex their data visualization, storytelling, and post-production skills and receive feedback from current employees on their work. This would help build their brand and diversify their talent since they would reach students beyond the academic disciplines they may hire from regularly.

Now, when it comes to connecting with students during the pandemic, I would communicate and work with a school's Career & Co-op Centre as someone who works in higher education. They know their students best and can educate you on nuances that would make your campus recruitment strategy more comprehensive."
Advice for Other Career Coaches
So, what can we take away from Ken's words? More importantly, how can other aspiring career coaches follow in the supportive footsteps of Ken?
"As Career Educators, it is often challenging to truly support someone when we fail to understand them as a person along with their life circumstances," explains Ken. "Case in point, perhaps you are working with a student who's the first person from their family enrolling in higher education. They may have never received guidance on the importance of networking or even how to do it. This can be a stressful process, so being more patient and understanding may be key in making sure the student feels well supported."
And so, while we are the experts in career education, we are not the experts of the lives of those we work with, nor are we the experts of what they need. For all students out there, be sure to continue staying curious and enjoying all the future adventures you have. As for career coaches, continue to be patient and understand your students, as that's the support they're looking for most!